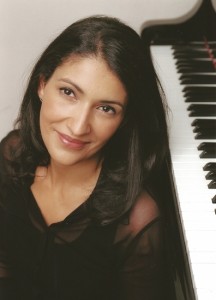 Biography
Born of Egyptian parents in Kinshasa (Congo), Myriam Farid emigrated to Québec at a young age, where she began her musical studies at the Conservatoire de Musique du Québec à Val-d'Or. Following further studies in Paris she obtained her Masters in Interpretation and Chamber Music at the Conservatoire de Musique de Montréal upon her return to Québec. Throughout her career various musical influences, cultural diversity, and auspicious encounters have contributed to the development of her art.
Myriam has taken many advanced courses to perfect her skills and partcipated in several master classes given by esteemed pianists such as Jerome Lowenthal (Chair of the Piano Faculty at the Juilliard School of Music), Monique Deschaussée (professor at the Cnsm), Ramsi Yassa, Seth Knopp (professor at Peabody School of Music), and the conductor Raffi Armenian.
She has been invited by numerous orchestras including the Cairo Symphony Orchestra and the Conservatoire de Montreal's Orchestra, conducted by Louis Lavigueur. She has worked with the conductors Christoph Mueller (Claudio Abbado's assistant and conductor of the Gustav Mahler Youth Orchestra) and Johannes Harneit (Artistic Director of the Hannover Opera). She has played in recital and as a chamber musician. A passionate supporter of contemporary repertoire, Myriam has also collaborated on the premiere of Works by Young Canadian Composers. In 2010 she performed at the Lugano Festival at the invitation of Martha Argerich.